About
ABOUT TARANTINO FOODS, L.L.C.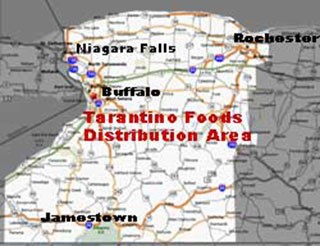 TARANTINO FOODS, L.L.C. is a privately owned wholesale food distributor.
TARANTINO FOODS, L.L.C. services independent restaurants, regional and national chain accounts, schools, universities, health care facilities, casinos, and other institutions in the Western New York State geographic area. Our distribution are includes Buffalo, Niagara Falls, Rochester, Jamestown and areas in between these cities all the way to the Pennsylvania state line.
wholesale food distributor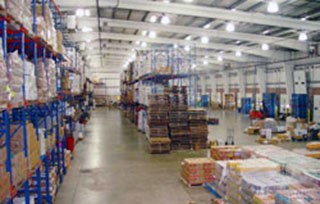 Our company has been in existence since November .
1999 and moved into our current 50,000 square foot controlled temperature distribution facility in August 2003. John Philip Tarantino Jr. is President and Timothy Biddle is Vice-President.
TARANTINO FOODS, L.L.C. is the successor of TARANTINO FOODS, Inc. which was founded by John P. Tarantino Sr. in 1947. John P. Tarantino Jr. and Mr. Biddle each have over twenty years experience managing large volume supermarkets. Mr. Tarantino Sr. also has many years of experience working in and owning/operating restaurants.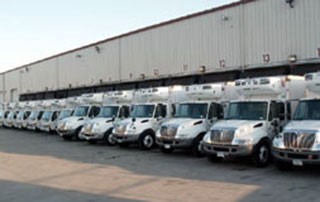 TARANTINO FOODS, L.L.C.
owns or leases a fleet of twenty modern refrigerated delivery trucks. Approximately sixty full time and part time employees staff the facility twenty-four hours a day seven days a week. We employ six full time sales representatives including a Chinese born Asian specialist.
The majority of sales are attributed to fresh produce. However, we also supply customers with dairy products, frozen food items, canned and dry goods, paper supplies, ethnic foods and specialty food items. TARANTINO FOODS, INC. was a long time member of the NUGGET buying group.
Tarantino Foods, L.L.C.
continued the NUGGET membership and subsequently joined the UNIPRO buying group after the two entities merged in 2001.
TARANTINO FOODS, L.L.C.
is listed with BLUE BOOK SERVICES with a XXXX rating.
TARANTINO FOODS, L.L.C
. is third party inspected by COOK and THURBER with semi-annual audits verifying HACCP and prerequisite programs such as Shipping and Receiving, Sanitation, Pest Control, Recall program, Food Security and Critical Control Points of the Cold Chain.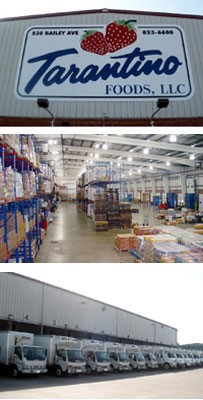 Wholesale Food Distributor